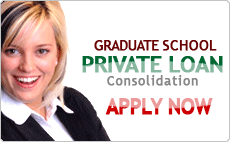 Graduate School Loans is the leader in education finance solutions for graduate students. We are committed to providing graduate students with the necessary tools and information to effectively manage your education debt. Graduate School Loans is here to assist you finance your graduate school education. Upon graduation, Graduate School Loans offers education debt management options to aid in the repayment of your graduate student loans. You will find the products and services we offer invaluable to a financial sound future.

Graduate School Loans Federal Loan Consolidation
By consolidating your federal student loans with Graduate School Loans, you can lower your monthly payment, which can save you hundreds of dollars each month. In addition, consolidating your graduate school loans allows you to include your undergraduate loans or previously consolidated loans, permitting you to make one low monthly payment. Learn more...

Graduate School Loans Private Loan Consolidation
At Graduate School Loans, we understand the high cost of graduate school, which is why we offer consolidation of private education debt. Manage your education debt and repayment with a Graduate School Loans Private Loan Consolidation. NEW!!! Now, when you apply for a Graduate School Loans Private Student Loan Consolidation, you'll get 30 days free access to a Crossing job-search website of your choice! That's a $29.95 value. Learn more...

News and Resources
Find all the information you need regarding graduate school funding, education finance, and debt management. Also, keep current with our industry news updates.

Articles
Search through our database of articles covering various graduate school topics including graduate school funding, graduate school programs, and graduate school lifestyle. Graduate School Loans is dedicated to educating graduate students about the student loan industry and keeping you up to date about changes in legislation and regulations. Here, you'll find everything you need to stay informed.

Government Relations
As an authorized lender under the Federal Family Education Loan Program (FFELP), Graduate School Loans is committed to adhering to government policies and regulations. We work endlessly to ensure your paperwork is administered under strict compliance with federal and state legislation. To this end, we have gathered information about the FFEL Program to make all procedures and protocol as transparent as possible. Graduate School Loans wants you to be informed about your student loans so that your decisions will make for a sound financial future.

Financial Aid Professionals
Your role is a crucial one in higher education. You are the link between the cost of attaining higher education and the culmination of a successful career. Graduate School Loans recognizes your role and is committed to assisting you and your students. We have outlined the products and services we offer along with the benefits your students will receive when they choose to consolidate their education loans with Graduate School Loans.



How Graduate School Loans Helped others!

The first time I called in I spoke with a loan consultant immediately. The representative was knowleadgable and able to answer all of my questions. he took me through each step of the application and explained all of the details. He was extremely friendly and I thank him deeply for helping me through the consolidation process.
- Greg M. Tuscaloosa, AL

Read more stories
Scary Stories

I consolidated my undergraduate student loans with a large, national loan company. I figured that, being a large company, it would be a good choice. That was true until I had a question about my consolidation. It was a joke to try to talk to a live person. All I ever got were automated voices and the elevator music that you get stuck listening to while you are on hold....

- Jordan P. Michigan


* The final fixed interest rate for your federal loan consolidation loan is calculated as the weighted average of the interest rates on the loans being consolidated rounded up to the nearest one-eighth of a percent. Your exact monthly payment reduction may vary depending on your loan. Graduate School Loans Financial reserves the right to modify, expand or discontinue this offer at any time without notice.

The Career Resources column is presented by EmploymentCrossing, America's leading job search site dedicated to getting people jobs.

IRS Reminds Students of "Tax-Advantaged Education Expenses"
By Surajit Sen Sharma

On September 11th, the IRS news release "Back-to-School Tax Breaks Help Teachers Pay Classroom Costs; Aid Parents, Students With College Tuition" stressed the importance of saving receipts and maintaining expense records to take full advantage of deductions on educational expenses and credits available on federal income tax returns for 2007.

+ read more